Phillip Banks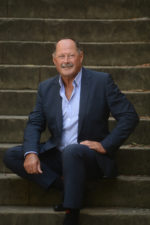 Real Estate Agent/Director
Phillip Banks is a mature and passionate salesman at heart, having survived the roller-coaster markets of the last 40 years with undaunted enthusiasm! His persistence, coupled with his professionalism and drive, has enabled Phillip to consistently be the Company's highest achiever. In addition, he has successfully trained and managed a Sales team in all facets of Real Estate.

Phillip has instigated and maintained a fool proof Buyer Matching System which has continually managed to track the potential in every prospective purchaser! He prides himself in staying with a buyer until they buy – on occasion this has been for up to 2 years. Phillip understands the buying and selling traumas people experience, having dealt with hundreds of different scenarios over the years.

As Phillip has lived in Hobart all his life, he has developed a wide network of contacts and a comprehensive knowledge of property. He is recognised as an industry expert in the Central Suburbs and has successfully negotiated in excess of 2000 property transactions in his career! He is well equipped to handle YOURS!

On the industry scene, Phillip for several years was Chairperson of the Multiple Listing Service (Southern Branch) and the Social Committee! He also presided on various Dispute Committees, adjudicating over his peers.

Phillip believes the key to success in Residential Sales is diverse marketing, thorough follow-up, courtesy, and careful consideration when giving advice to clients.
03 62310400
03 62310282
0412131254